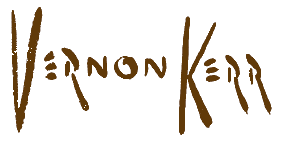 Vernon Lee Kerr • 1938-1982 • California Artist
---
INFORMATION | PAINTINGS | ABOUT | PHOTOS | PURCHASE
Back to more
ABOUT THE ARTIST
---
Article reprinted (with permission) from Southwest Art, August 1984

1938-1982
"I love the sea. It was natural for me to turn to it."
"I Found My Ocean"
by Earl S. Beecher, PhD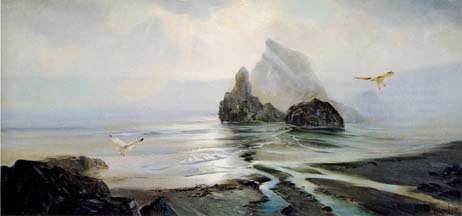 Encounter, oil, 24 x 48, by Vernon Kerr
(photos of paintings courtesy of the author)
I first met Vernon Kerr when I decided to take art lessons in the fall of 1967, I had long admired the work of California's Laguna Beach artists Leon Franks and Robert Wood. But when I contacted Franks concerning art instruction, he declined to take me on as a student.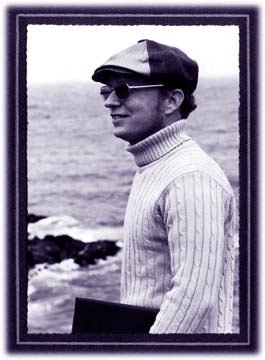 "I don't teach anymore," he said. "My income from my prints and books supports me. Go see Vernon Kerr. He knows all my secrets. Study with him."
I took the advice – it led to a friendship with Kerr that lasted until the artist's death in 1982, at the age of 44.
Primarily a self-taught artist, Vernon Kerr displayed an early interest in and facility for art. He sold his first seascape for $50 at age 15. At that time, he proved to his parents that he was willing to pursue art at some length and inconvenience; traveling to private art lessons with Leon Franks in Hollywood, Vernon took three different bus routes, a two hour trip each way. His parents, in response, supported his interest and built him a small studio over their garage.
The burgeoning artist received more than familial recognition – at age seventeen, he was accepted as the youngest member of the Laguna Beach Art Association, joing the organization at the same time that the Southgate California Library gave him his first one-man show.
Enlisting in the Navy at nineteen, he was assigned as a draftsman/illustrator on a repair ship. His devotion to art never wavered during his tour of duty, and while the ship was anchored off Japan, he rented a small studio on land, traveled and attended art shows. Upon his return to the States and discharge when he was 21, Vernon made a 9,000 mile tour of the United States, visiting major art galleries and studying great works. But that didn't seem to satisfy him.
Vernon's mother recalled that he regretted his lack of formal art education. "Everyone was into extreme abstract painting," she said. "If he had studied at that time, I'm afraid it would have spoiled his natural gift. I had no regret that he didn't go to any of those schools. We discussed it often. But he never saw it my way. He still regretted that he hadn't studied it."
The family moved to Laguna Beach, and Vernon's mother opened an art gallery in the center of town. The International Art Publishing Company began publishing his prints and distributing them worldwide when the artist was 24, thus beginning a trend which culminated in more of Kerr's work in print with various publishers than any other contemporary American artist.
Despite misgivings concerning his training, he was an excellent teacher, well-known for his seascapes, landscapes and still lifes. Many aspiring artists vouched for his ability, citing his enthusiasm, formidable teaching skills and brush technique.
He began each lesson with a painting demonstration: He would place a charcoal-saturated string across a blank canvas and snap it, producing a straight horizon line. Then he would block in dark rocks and wave formation.
Next, he would use a tow-and-a-half-inch sash brush to paint the sky. Clouds and backlighting or highlights were completed with smaller brushes. The whole breath-taking operation would last less than half an hour. And all that time, he'd explain color key, contrast, hue, tone, lights, darks, accents, etc.
He would limit his palette in class to red, yellow, blue, black and white. He mixed all combinations and hues from these basic colors. (This was done for demonstration only. He used a broad palette for his regular work.)
Finally, he spent time putting in the foreground and carefully working on what he called the "nitzi-poo" details. The whole demonstration would take about an hour. He would inevitably end by saying, "Now you do it."
Oriental Splendor, oil, 48 x 36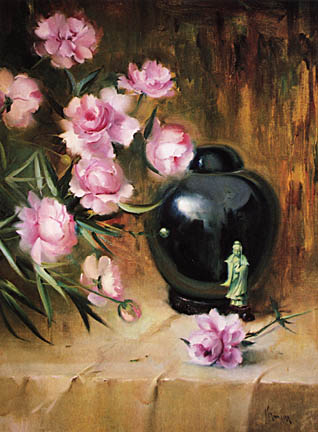 He was a demanding teacher – he made me paint seascapes in black and white for eight months before he would let me use color. "Your values are off," he would say. "You have to get your contrasts right. Once your values are correct, you can paint it in any color range you choose and it will look convincing." He would look at each student's work carefully, leave, then return shortly and say "Can't you see the contrasts? It looks like the side of a barn."
As a study in discipline he would sometimes execute a "Leon Franks dream rose" in ten strokes or less – an exciting exercise to watch.
One of his most infuriating habits was to look at a student's painting and say, "Not bad. Mind if I give it a little help?" With that, he would pick up a brush, dab it in the paint, quickly place two or three expert strokes on the canvas, then lay the brush down. "There," he'd say. "Isn't that better?" Sure enough, those few strokes would pull the whole painting together. He had an incredible eye.
Later, when I got to know him better, I commented on his abruptness. "Can't you make your corrections with more kindness? You use about as much tact as a sledgehammer," I said. Students soon reported that he had been quick to heed the suggestion.
But he was much more than just a gifted teacher. He was a talented, professional artist searching for the best manner in which to express himself. He had selected seascapes as his specialty, giving the following rationale: "I studied with Leon Franks. He is one of the world's great still life and floral painters. If I wanted to step out from under his shadow, I would have to paint something he wouldn't in order to make my own mark. I love the sea. It was natural for me to turn to it."
In the fall of 1968 my wife and I commissioned Vernon to paint a seascape for us. He came to our home and noted our color preferences. Upon learning that my wife had been a music major in college, he asked her, "Do you want a Debussy, Tchaikowsky or Beethoven sky?" She thought a moment and replied, "Debussy."
I hastened to add that I wanted clean, fresh air. No smog. Vernon said not to worry. But worry we did, for over a month. All that money spent and what if we don't like it? When he delivered the painting he explained, "It's a December morning after a rainstorm. You can't get much fresher air than that." The painting, "Rhythm of Nature," is a composite of Crescent Cove and Emerald Bay in Laguna Beach. The sky is definitely "Debussy." We were delighted.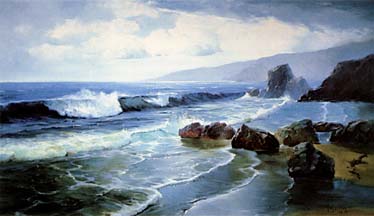 Rhythm of Nature, oil, 36 x 60
"On a good seascape you should be able to tell roughly the time of day, season of the year and weather conditions," Vernon said emphatically.
A couple months later, he surprised us in class with announcement: "My prints have made me internationally famous as a seascape artist. But I need to grow. I'm closing the gallery and moving to Idaho to study landscapes."
When I recovered by composure, I suggested that my wife and I would like to have an open house, with him as guest of honor, to help him sell of his inventory of paintings. He agreed to try it. Three frantic weeks later, we held the open house. About 250 friends from school, church and the neighborhood came. The featured painting at this showing, "Encounter," was the first in a series of peaceful, almost monochromatic seascapes with gulls. Vernon described it as "the capstone of my Laguna Beach period. It is my ideal ocean. I see it only in my mind. It is a tribute to God's creativity."
On that Sunday afternoon in early February, Vernon sold over $5,000 worth of paintings. He was, of course, very pleased. "This was what I needed," he said. "Now I can pay to move my family up there and put the down-payment on the house I picked out." That open house resulted in several more showings over the next twelve years.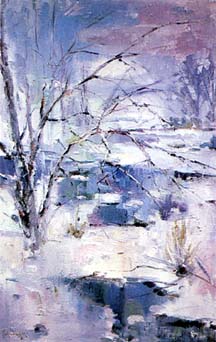 Winter Fantasy, oil, 36 x 24
Vernon's Idaho interlude produced some sensational landscapes and snow-scenes. But my enthusiastic questions concerning his ability to portray snow masterfully brought a matter-of-fact response: "It's only water. Light reflects off it in the same old red, yellow and blue."
Vernon could not long stay away from his beloved coastlines. After three years of self-imposed exile, he called me with excitement. "I've found my ocean," he announced. "It really exists! It's in Mendocino. I'm moving there." And with the help of Louis Paul, a talented artist and carpenter who had studied with him, Vernon went to Mendocino and build an ideal gallery/home on the ocean front. This provided Vernon with the atmosphere he's craved, and the resultant work began to attract attention from unusual segments of the public.
A six-month promotional campaign by Los Angeles radio station KFAC to promote an upcoming show of Vernon's work, which it was sponsoring, took an unusual twist. The station staff chose twelve classical music selections to which Vernon chose pieces such as Toccata and Fugue by Bach, Wellington's Victory by Beethoven, the theme of the Kalendar Prince from Scheherazade by Rimsky-Korsakov, and Dance of the Seven Veils from Salome by Strauss.
When the time came, we hung the paintings in the gallery without labeling them, then challenged program director Carl Princi to come and identify which was which. To the credit of both the artist and the observer, he named each one correctly.
That same year, a Los Angeles television station (KOCE-TV, Channel 50) produced a special Showcase on Vernon Kerr in which he executed a painting on camera. The program received excellent public reaction.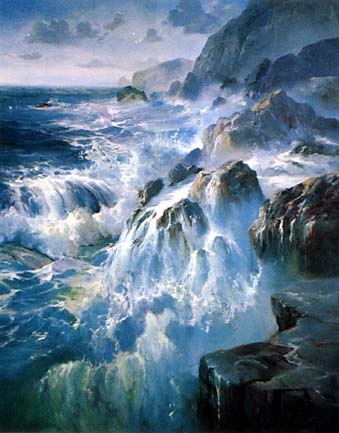 Synergy, oil, 48 x 36
Vernon cited the early Japanese influence upon his work for the uniqueness of his imagery. "Oriental art is direct, clean and efficient. Their colors are pure. Their stoking is simple. I draw my paintings in an Oriental style tyat uses economy of strokes. Everything is planned in advance, not experimented with on canvas."
His work has a great deal of mass appeal, but Vernon was often the last to believe it. Print companies continued to take notice of his work. The day before one of our open houses, Jim Haddad of Haddad's Fine Art company arranged to come select paintings for potential prints to be published by his company.
Vernon crossed his fingers and kept saying, "I hope he picks two. I hope he picks two." When I asked, "Why two?" he explained: "If he takes one, I had a lucky painting that turned out well. If he takes two, I'm an artist!"
Haddad took ten that year.
Ultimately, Vernon had more paintings in the Haddad catalog than any other living artist. In addition, his prints were distributed by Texasart, Donaldart and Brentwood Fine Art.
By turns ebullient and uncertain, Vernon could also be analytical about his work, comparing his painting process to a surgeon's skill. "It is not time that makes for quality work," he said, "but precision. You must know the value, hue, tone and textures of every stroke. You must think it out in advance. You must know what it will look like before the brush ever touches the canvas."
Kerr's careful conceptualization process resulted in paintings of startling beauty, some soft and dreamy, others bordering on the abstract, and still others featuring a sharp-edged clarity of image and intensity of color which drew countless admirers to his work and students to his classes and books. One of those volumes, Vernon Kerr Paints Seascapes and Landscapes (Walter Foster Art Books) remains a consistent best-selling title.
Vernon Kerr's legacy is the beauty he saw the interpreted in nature. We are saddened by our loss of this fine talent, but grateful for the enrichment which his work brings to the field of artistic endeavor.
Vernon Kerr died at his gallery in Mendocino, California, on April 25, 1982. He is survived by his wife and four children. No one knows exactly how many paintings he completed during his lifetime. The number is somewhere around 1,000.