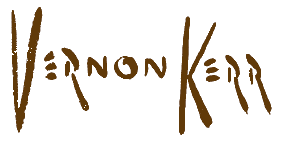 Vernon Lee Kerr • 1938-1982 • California Artist
---
INFORMATION | PAINTINGS | ABOUT | PHOTOS | PURCHASE
---
O B I T U A R Y
Published April 28, 1982
Ran simultaneously on front page of Advocate News, Fort Bragg, Calif.
& Mendocino Beacon, Mendocino, Calif.
(author unknown)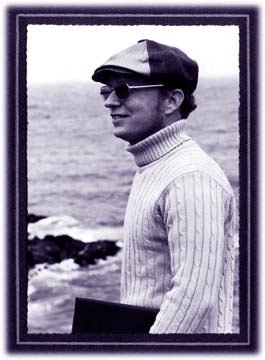 VERNON KERR LEAVES A LEGACY
Vernon Lee Kerr's artistic achievements brought him worldwide recognition for excellence in the painting of seascapes, landscapes, snow, deserts and roses. He was known locally as a hard-striving artist.
On Sunday, Kerr, 44, died from an apparent self-inflicted gunshot wound to the head sometime between 7:30 a.m. and 9 a.m. He was found by a friend at 9 a.m. in his Pallette Drive home in Mendocino. He is survived by his wife, Norma Jean Kerr of Ukiah, and four children ages 12-18 years old who live in Fort Bragg. [Grace, Merritt, Carrie and Walter]
Vernon's flight to fame began in his early 20s when he because the youngest artist to be published by the International Art Publishing Co. Though his past years of painting were very productive, according to Norma Jean he had not painted for the last two months.
Norma Jean, his second wife, had been married to Vernon for the past eight years and was in the process of acquiring a divorce when his died. She had spoken to him, however, during this past, reportedly troubled, month.
In assessing his apparent action, Norma Jean is most forthright.
"People will ask, `Why?'"
"When he found out that he'd burned out on painting, and could not life another brush, he felt he'd lost his identity, and he didn't know how to build another Vernon," she said. "He always wanted to be known as Vernon the man, rather than Vernon the artist."
Kerr was known well by other well-known area artists.
J.D. Mayhew of Fort Bragg said of his professional colleague: "He left a lot of work that future generations can enjoy. We painted together a lot and I learned a great deal from him. He helped a lot of us by being open with his teachings. He was a special person, a good friend, one of the top seascape painters."
Pastor Ronn Garton of the Mendocino Presbyterian Church described him as "a man who could really paint and use his gift. He was also a good father. His children were a source of great joy to him."
As an artist Vernon was unquestionably a success. He totaled 50 paintings on the limited and unlimited market.
Born in Bellevue, Penn., in 1938, he moved to California at age five and was raised in Southgate and later Laguna. At age 15 his father [Roy Melvin Kerr], an architect and poet, recognized his son's talents and apprenticed him to Leon Franks for four years, where he learned to paint portraits, florals and still-life.
He had a summer scholarship in 1955 to the Art Center School in Los Angeles and was a self-taught landscape and seascape artist.
Compelled to the sea, he joined the U.S. Navy at age 19 and because a Navy illustrator for two years. Stationed in Japan, he studied Japanese techniques in art, some of which he used in his paintings.
One of the most noted stories about Kerr was that as a young man he sold his 9"X12" oil paintings in the local paint store in order to use the money to buy new supplies before he signed a contract with International Art Publishing Co. at age 24.
"Within a short time he has captured the attention and admiration of the American public here and abroad," an IAP publisher has been quoted as saying.
Vernon was a professional artist for some 26 years where by the successfully supported his family solely from his artwork. He taught for 15 years in his own school in Laguna Beach and Coeur d'Alene, Idaho. He owned the Key Arts Gallery in Laguna Beach for 10 years until 1970. He first moved to the Mendocino coast in 1973.
While living here he completed his instruction book "How Vernon Kerr Paints Seascapes and Landscapes," published by Walter T. Foster.
As a teacher he was described as a "hard task master," by Yvonne Pepin, who worked as his apprentice for a year in 1979.
"He had a drive to sell, he was a great salesman." she said of him Monday after learning of his death. "He taught me more than techniques of painting, but also how to market my work."
Of himself, Vernon had said it was his faith and precision which was responsible for his success.
In an interview in ARC, a local art publication, he said:
"Without faith you don't have anything. What you think is what you get. I work on a faith system of positive projection. If I'm in the right place at the right time, opportunities will come to me.
"You have to be open to make people happy. You have to be disciplined and work for it. You have to get out of your studio and meet people, do some P.R. You have to teach as a back-up to supplement your income, get exposure and credentials."
---
INFORMATION | PAINTINGS | ABOUT | PHOTOS | PURCHASE
---